Lens Coatings at Wise Eyes Optical
Protective Eyeglass Lens Coatings for Superior Performance
After you have selected the best lenses for your new eyewear and your lifestyle, consider adding a specialized lens coating to help enhance your vision, shield your eyes, protect your new lenses, and make eyewear maintenance easier. Several superior options are available for your lenses from Wise Eyes Optical: Scratch and Impact-resistant coating, Ultraviolet Protective Coating, Anti-reflective/Anti-glare Coating, and Hydrophobic Coating.
Scratch & Impact-resistant Coating
Scratch and Impact-resistant Coating – No matter what type of lenses you select, they will not be absolutely impervious to scratches; however, Wise Eyes Optical's Scratch and Impact-resistant Coating offers a crystal clear, exceptionally hard barrier to help protect your new lenses from the occasional impacts that affect us all. Safeguard your lenses from minor falls, impacts, and abrasives with our Scratch and Impact-resistant Coating. This coating is strongly recommended for all eyewear for children and teens, as well as those who participate in sports, outdoor activities, and travel.
Ultraviolet UV Protective Coating
Ultraviolet Protective Coating – Effectively block 100% of UVA and UVB rays with this coating, which is applied as an invisible dye. Safeguard your eyes from overexposure to high frequency wavelengths to help prevent the development of retinal and corneal damage, including cataracts.
Anti-reflective AR & Anti-glare Coating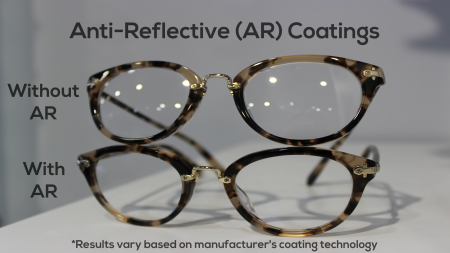 Anti-reflective (AR)/Anti-glare Coating – This specialized coating eliminates the annoyance and distraction of glares and reflections from both the interior and exterior surfaces of your new lenses. The Anti-reflective/Anti-glare Coating is applied as a microscopically thin layer that increases your visual comfort, enhances night vision, eliminates glare, and makes reading and screen viewing much more enjoyable. We highly recommend this coating for all eyeglass lenses, especially for polycarbonate, high-index, aspheric, sunglass, and photochromic lenses (which all reflect more light than standard glass and plastic lenses).
Hydrophobic Anti-Fog Coating
Hydrophobic Coating – Keep moisture from affecting your lenses with Wise Eyes Optical's Hydrophobic Coating. If you live in an area with frequent precipitation or go in and outdoors several times per day, this coating can be very beneficial. It prevents your eyeglasses from fogging up when you return indoors from the cold, as well as when perspiring. This coating makes a nice addition to all lenses, but is specifically recommended for law enforcement and other first responders who require the clearest vision without unnecessary delay when entering structures.
Some of our specialty lenses include these and other advanced coatings. For example, our premium photochromic and polycarbonate lenses include 100% UV protection as a built-in feature. Contact Wise Eyes Optical for more information about any of our lens coatings or to request personalized assistance with making your lens coating selection. Call our friendly staff at: (717) 242-1915.
Get a complete set of eyeglasses for